With tens of millions, if not hundreds of millions of users worldwide, it's not hard to understand why malicious attackers and hackers are out in full force to attack Windows Live Messenger and MSN Messenger users. Once a Windows Live MSN Messenger user is infected with the virus, Trojan, worm, keyloggers, bots and other malicious threats, not only his or her own privacy and confidential details such as chat history or login and password credentials may be compromised, the IM client will also keep sending and spreading virus to every contacts in the form of photo file or album.zip file.

Normally, a contact of infected MSN Messenger user will receive, apparently from his or her friend, a file attachment that looks like a photo, image, graphic, picture or collection of photos in ZIP archive format, or a link or URL that will download a file. Sometimes, the picture, file or link arrives together with some provocative or enticing message to encourage recipient of the instant message to open the file or link. The file is in fact executable code that contains a virus. Once the user opens the file, the virus will install itself, infect the system, and spreads to everyone on the users contact list.
The file sent by infected PC or downloaded by the link when clicked can take many form of names, such as photo album.zip, me!.jpeg, IMG-0012.zip, rachel.exe, name.pir, newsXX.zip, Jenny.zip, photo656.jpg, various executables, and etc. The accompanied messages and example of links that bring you to download malicious files includes:
Lol, you'll like this
is that u on that photo
is that you on this photo? www.hothotpeople.net/photo894.php
nice new photos of me and my friends and stuff and when i was young lol
picture of me and my friend
picture of me on a beach
look at my new dancing movie
Lmfao hey im sending my new photo album, Some bare funny pictures!
OMG; just accept please its only my photo album
hey man accept my new photo album.. made it for yah, been doing picture story of my life LOL
dude i just got these pictures off my digital for you! Gimme a moment ot find em and send
My friend took nice photos of me
You Should see em loL
look at me doing the moonwalk!!!
Hey, I met this girl at the store a week ago. Look at the picture I took of her when she was sleeping
hey you got a photo album? anyways heres my new photo album accept k?
Hey wanna see my new photo album?
check out my sexy books
HEY lol i've done a new photo album
Hey just finished new photo album! might be a few nudes lol…
Wow! look at this old picture i found
Take a look at the new pics already
Is this your profile page http://www.imdownloads.net/profile.php?msn=user@hotmail.com
hey, is this you?http://www.imstuff.us/profile.php?msn=user@hotmail.com
http://www.mprofiles.net/members.php?msn=user@hotmail.com
http://lollypics.xx.funpic.org/pictures.php?photo656.jpg
When the PC is infected with a virus that spread through Windows Live Messenger or MSN Messenger, user may encounter symptoms such as cannot update virus scanner's virus signature, unable to surf anti-virus website, PC automatically shuts off, cannot launch or run any programs, programs shutdown suddenly, weird or inconsistent computer behaviors, and most importantly, all of your friends, buddies, family members, mates on your contact list will be sent virus-infected file.
The first line of defense on all virus problem is always anti-virus or Internet security suite from the common developers such as Norton Anti-Virus, McAfee VirusScan, AVG Anti-Virus, Trend Micro Internet Security, Kaspersky Virus Removal Tool, Kaspersky Internet Security or Kaspersky Anti-Virus, ESET AntiVirus or Smart Security, and many more, which provides full level of protection. However, for users who want specialized MSN or Windows Live Messenger virus removal tools, here's a list of MSN virus removal utilities available, for free download. However, do not that these MSN virus removal tools do not provide real-time protection, and is likely useful only if you have infected, or you suspect that you may be infected with the virus.
MSN Virus Remover (MSNVirusRemoval) Software
MSN Virus Removal or MSN Virus Remover Software removes many (12,762 and increasing) different strains of common MSN viruses. Recommend to clean in Safe Mode to help with the removal of some strains. It can restore access to Regedit, Task Manager, Run, Command Prompt, System Restore Configuration Panel and Folder Options and scan external drives such as USB drives and portable harddrives for auto runs which may reinfect the system.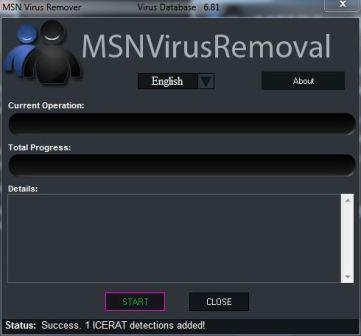 Download MSN Virus Remover: MSN Virus Remover.exe
MSNFix
MSNFix is a command batch script that can detect and remove many types of MSN and Windows Live Messenger virus. To use MSNFix, user should download and extract the ZIP file, and then run MSNFix.bat. Follow on-screen instruction then. Developed by French, but got English user interface.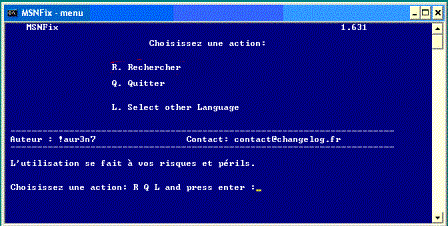 Download MSNFix: MSNFix.zip
Clean Virus MSN
Clean Virus MSN by AxBx, the developer of VirusKeeper, is a free disinfection tool that detects and deletes currently circulating MSN Messenger viruses. The MSN Messenger viruses detectable and removable includes Restarter.F, Agent.DWA, IRCBot.APY, Sdbot.CHA, Sdbot.BZY, IRCBot.AIU, SDbot.BXZ, Themida, Dropper, Trojan.Win32.Restarter.f Trojan.IRCBot-1698, W32/Smalltroj.CXEI, Win32/IRCBot.ADS, W32/Smalltroj.CXEI, TR/Agent.dwd.4, BackDoor.Ircbot, W32/Trojan2.TZD, Trojan.Win32.Agent.dwd, Worm:Win32/Pakabot.gen, W32/Downloader.IPQ, W32/IRCBot.BPQ.worm, Sus/Dropper-A, Sdbot alias party_jpg.zip, Ircbot alias MSN.com, Sdbot alias Dance_dec_jpg.zip, IRCBot alias virus MSN picts_????.zip,Sdbot alias virus MSN N039_jpg.zip Sdbot alias virus MSN Z058_jpg.zip, IRCbot alais virus MSN G038_jpg.zip/S_00305_jpg.zip, IRCBot alias virus MSN Photos-webcam2007.zip, Vanbot alias virus MSN Webcam_00002.com/Livecam1.com), IRCBot alias virus MSN Myalbum2007.zip, and 3,900 other variants of MSN virus. Clean Virus MSN can also analyzes active processes in memory and files.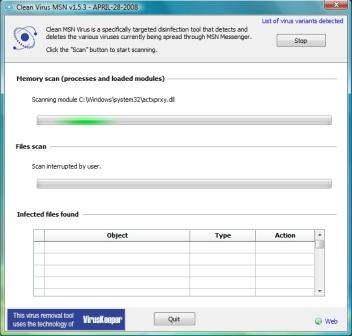 Download Clean Virus MSN: cleanvirusmsn.zip
MSN Virus Cleaner
MSN Virus Cleaner by Codemonster is a tool to clean and remove any MSN threats including worms and viruses from MSN or Windows Live Messenger. MSN Virus Cleaner can even remove AOL instant messenger and Yahoo Messenger related viruses and worms. MSN Virus Cleaner also includes a Task Manager, a Startup Manager, a Service Manager where you can analyze the description and the path for all running services on your computer, a Disk Info that display the space usage of all the drives on your PC and Registry Monitor.
Download MSN Virus Cleaner: Setup.zip (Note, as of April 30, 2009, at version 2.0.3.4, the update will cease)
MSNCleaner
MSNCleaner is another MSN virus cleaner, developed by ForoSpyware or InfoSpyware, is a free utility for the detection and elimination of all forms of malwares which are transmitted via MSN Messenger and Windows Live Messenger and others. Available in English, Spanish and other languages user interface, MSNCleaner can also unlock RegEdit, Task Manager, restore the homepage in IE, delete temporary files, restore original values of the Windows registry, restore original "hosts" file, re-enable Control Panel, re-enable desktop icons, re-enable clock, enable Shutdown, Search, and Run in Start Menu, re-enable Command Prompt (cmd) window, re-enable right click context menu, and etc.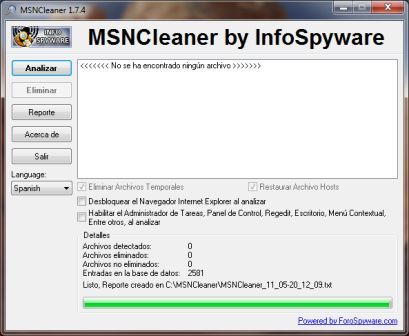 Download MSNCleaner: MSNCleaner.zip
impFix
impFix, by yandao.com, can remove every MSN worm to date, and can generically remove MSN worms hiding in specific places.
Download impFix version 3: impFix3.zip