The leading provider of mobile broadband services, Clearwire Corporation has launched the new CLEAR iSpot personal hotspot, which the corporation claims as its first 4G personal mobile hotspot designed exclusively for highly-popular Apple mobile devices – iPad, iPhone and iPod touch, capable of sharing high-speed, unlimited 4G connectivity with up to 8 Apple WiFi-enabled devices (within 150 feet) simultaneously.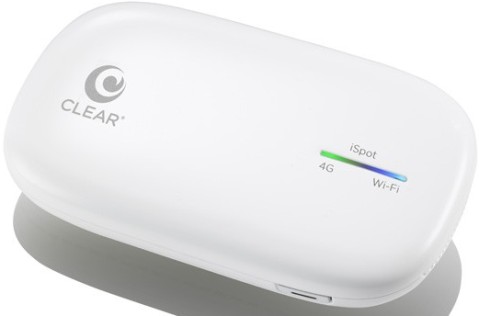 "With the iSpot, Apple customers don't have to sort through confusing service plans with overage fees, nor do they have to worry about how much data they're using," commented Thomas Enraght-Moony, senior vice president for marketing at Clearwire. "Instead, with CLEAR, customers can run all of their Apple mobile devices at true broadband speeds for a single, simple monthly fee."
According to Clearwire, CLEAR iSpot delivers super-fast download speeds of 3 – 6 Mb/s with bursts more than 10 Mb/s, supporting up to 4 hours of continuous usage time thanks to its powerful 1830 mAh internal rechargeable battery.
The new stylish, modern CLEAR iSpot device which measures 4.33 x 2.44 x 0.71 inches and weights just 4.58 ounces is now available at clear.com and scheduled to hit CLEAR stores and authorized dealers starting August 10 for an MSRP of $99.99. In addition, the iSpot on-the-go monthly service plan that offers Apple fans an unlimited 4G data usage is priced at just $25, without the need of a contract.