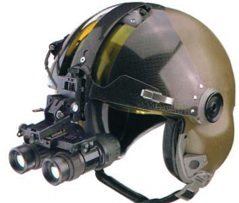 In emergency situations, rescue operations often need to be called off when night falls as it becomes too dark and risky for flying aircrafts. Lives could be lost in medical emergency operations (EMS) as the hours tick by while waiting for enough light to enable flying into the scene of the emergency. Low night vision has also limited off-shore oil operations, logging, high-rise work, repair work and other danger-fraught operations. NIVISYS Industries' NVAG-6 night vision goggles are the first to receive FAA approval for civil aviation.

The NVAG-6 goggles have made civilian night flying less of a brush with death in unavoidable circumstances. Made of light anodized aircraft quality aluminum, the goggles do not bear down heavily on the user's head. The helmet mount is ergonomically designed for easy finger-touch operation during flight. The 25mm eye-relief eyepieces can be individually adjusted for the user's clearer vision and comfort. The goggles can even be used by contact lens or specs users.
The goggles are not just designed for looks or comfort. They have a focus range of 25cm to infinity; 1x magnification, +2 to -6 diopter adjustment, eye relief of 14mm at 25mm distance, and 40-degree field of view. The binocular feature enhances the pilot's depth of field for easier navigation in take-off and landing. The goggles run on two AA batteries and can last up to 40 hours of continued use.
The FAA approved NAVG-6 night vision goggles have extended possibilities and improved safety for civilian pilots who have to fly at night.