To ensure your productivity and performance can be sustained even after long hours working in front of your computer, the working tools and environment including the mouse, keyboard, desk space, light, etc are very crucial. Working with the idea of computing in comfort, Microsoft has again added another lifestyle product to its list, Wireless Comfort Desktop 5000, with the aim of assisting users to improve their typing ergonomics and making their computing work more efficient and comfortable.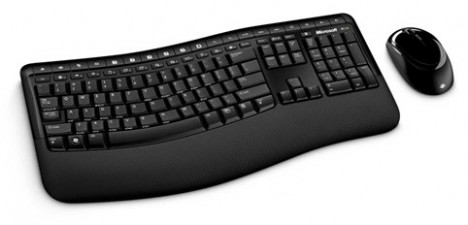 The new Wireless Comfort Desktop 5000 set comprises a Microsoft Comfort Curve keyboard and a Blue Track-powered mouse. Both devices are connectable to the computer wirelessly up to a distance of 30 feet away via a 2.4GHz mini-transceiver. The elegant-looking keyboard via its comfort curve layout together with a soft-touch palm rest gives users a more comfortable and pleasant experience particularly on the wrist for typing work. The ambidextrous shape of the Wireless Mouse 5000 with rubber side grips has also enhanced the griping sensation.
Beyond improvements in design and its elegant look, the Redmond Company has also complemented the Comfort Desktop 5000 set with some Windows 7 optimizations. The keyboard has added numerous buttons for instant access to some of Windows 7's most prominent functions such as Windows Flip and Device Stage.
The Wireless Comfort Desktop 5000 set is estimated at retail at $79.95 and it will be available later this month.