Apple's iPhone is famous for its multi-touch technology that enables quick function control using fingers scrolling. However, it doesn't seems to be able to compete against keyboard based smartphones such as Blackberry when comes to speedy typing. And that is how the designer, Altamash Jiwani came out with a brilliant idea of having a conceptual QWERTY keyboard accessory tailored for iPhone design.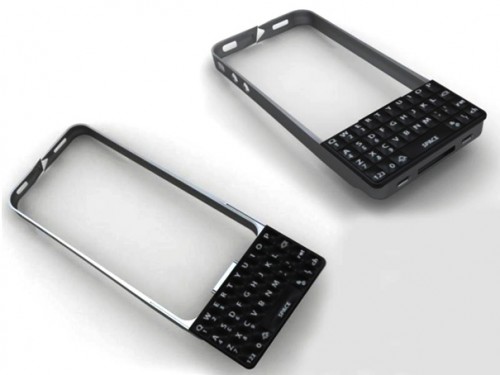 The keyboard is specifically designed and nicely fitted (conceptually) into iPhone body form factor with an extendable sliding keyboard at the bottom. When typing is needed, just slide it down and it is ready for use. Otherwise, just keep it in close position that will cover the only 'Home' button on your iPhone. To make it simple for use, the sleek and stylish keyboard can dock well to iPhone existing connector and without the need to manually control mode switching, it can be automatically changed between physical and its original virtual keyboard, making it easier for convenient use. That is not all, an external jack has been integrated that will allow phone charging directly.
However, it may be still too early to confirm if there is any plan to turn the concept into actual product, but obviously, this could be quite useful especially for those users that have always prefer to use the hard keyboard for speedy typing.