As an initiative towards greener environment, Control4 has been working hard to develop new home control system, hoping that each and every household would have one installed for better power consumption control to lower their electricity bills. Just recently, the company has announced a new EMS (Energy Management System) EC-100 targeted for digital home with much more advanced features integrated into a single touchscreen device.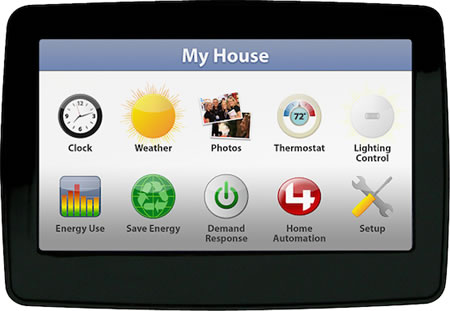 The EC-100 will be equipped with a 5-inch LCD touchscreen module that allows users to input and control the function, besides displaying all the power usage under different categories such as lighting, air-conditioning systems and many more. Besides, it enables a full system control such as security surveillance, home automation and many more through multiple sensors installed such as thermostat, motion detectors which could be very useful as a centralized control system in digital home. All these can be communicated through ZigBee wireless protocol intelligently without consuming excessive energy and hardwires running across the living room.
No estimated pricing yet, the EC-100 will be deployed by Bluebonnet Electric Cooperative to 35,000 households by March of 2010 first followed by next phase to 30,000 users subsequently. The company may try to push these to all its local power companies and eventually to their end users with partial subsidy to make them more affordable to public.