To simplify the control of home theater PC (HTPC) setup and offer users a more relaxing digital entertainment experience, GlideTV, has brought to users an elegant and stylish remote control which allows users to control and navigate the entertainment system without any bulky keyboard and mouse. About the size of a palm, GlideTV Navigator is the combination of a keyboard, a mouse and an AV remote control which allows users to navigate popular media applications such as Windows Media Center, Apple iTunes, Boxee, Apple Front Row, SageTV, Firefox, and any web browsers.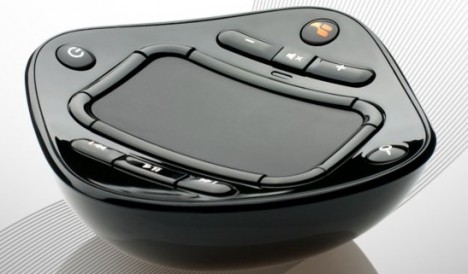 The new GlideTV Navigator comes with a remote, charging station and a USB wireless receiver. This tiny device features a large touch pad in the center flanked by various quick access buttons such as volume control, playback control, enter, directional, power on/off, and escape. This Navigator works perfectly with Windows PC, MAC, Sony PS3, etc.
For a mere $149, the new GlideTV Navigator offers users the ultimate enjoyment and easy control, and navigates the digital entertainment contents, all within the palm of the hand without the need for other supplementary accessories. Users who want to take advantage of Internet contents by playing them on TV can do so via this device.
A summary of the features is as below:
Clickable touchpad mapped to your TV screen – precise cursor control, one-thumb scrolling, single and double-click selection.
Backlit AV buttons to control volume and playback.
Directional buttons for easy two-axis navigation.
Dedicated Esc, Enter, Back, and Function keys to control applications.
On-screen keyboard. (Windows only)
Integrated search menu with links to Google, Amazon Video on Demand, Hulu, Netflix, YouTube and more. (Windows only)
Rechargeable battery.