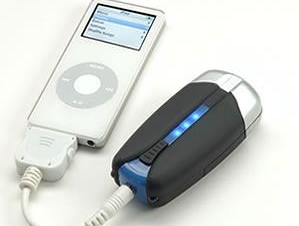 Looking for a compact, portable and cool gadget to juice up your electronic devices while you've no where to charge? Voxred has concerned of your need with its TC2 (Turbo Charge 2) portable charger powered by a pair of AA batteries, which designed to charge your mobile phones, Apple iPod, iPhone as well as portable gaming console.

With an exclusive Dual AlgorChip technology for extra power and safety, the Turbo Charge TC2 is guaranteed not to overcharge or damage your devices, according to the company.
The Turbo Charge TC2 Portable Charger that comes equipped with a dual LED flashlight is now available for less than $30. For sure, you must connect the appropriate adapter for your devices to get the juice.