Not long after Amazon announcement of its latest generation Kindle e-reader, Copia is ready to offer a much affordable color e-reader as a late entrance into this competitive market. Named as Wave5, it is dubbed to be the first and one of the most affordable color e-book integrated with 'social reading' suitable for all level of different users.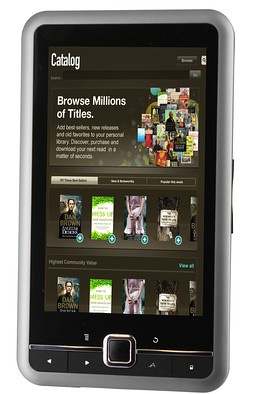 As you can treat it as a combination of e-book reader with tablet PC, Wave5 is equipped with 5-inch color LCD panel rather than e-ink monochrome display panel found in most e-book readers. While its main feature is still focus on e-reading, but the manufacturer has able to differentiate itself from other competitors' products with embedded social web services such as Facebook and Twitter. By having these, users will be able to share and recommend good reading materials to others without exiting existing e-book reading. That is not all, Copia has been supported well with its own e-book portal with more than 400,000 ebook titles (versus 650,000 titles from Amazon) available for purchase and download.
No actual availability yet but with its retail price set at $99, Copia is in great advantage for its low cost as one of the great companion that will hopefully trigger price slash on other competitors' products to make the e-book reading solution much more affordable in short future.