Nowadays SDRAM DDR2 memory modules are still monopolizing the market but the consumer PC is trending towards DDR3 which can offer higher memory bandwidth, capacity and eventually overall system performance boost. Corsair, the famous memory vendor has just announced a next generation DDR3 memory module, named as Dominator GT that can achieve significant clocking boost at maximum speed of 2533MHz and claimed to be the world's fastest memory clock running on DDR3 memory technology.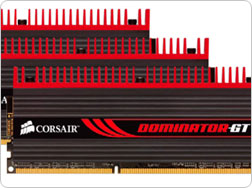 Corsair Dominator GT was set to run with Intel powerful Core i7 processor on an eVGA's X58 3X SLI Classified platform. Using tri- channel and a total of 6GB system memory further backed up with Corsair P256 SSD (Solid State device), the system can satisfy almost any multimedia and gaming centric applications.
Although DDR3 supposes to reduce the system power consumption with its lower supply voltage of 1.5V versus 1.8V required on common DDR2, but since it is clocking at extremely high frequency, there is a need to have proper power management system and that is how the company's proprietary DHX+ (Dual-path Heat eXchange) heatsink comes into picture. Besides cooling the memory chips and overall platform, each memory IC is also equipped with Corsair Airflow fan to accelerate the cooling mechanism for optimum memory performance.
No pricing and availability yet, we should expect this to reach commercial market soon suitable for any mainstream PC computing.