Being a person on the go, you probably carry a lot of sensitive work or personal data in your USB drive. Accidentally misplacing your USB drive might bring a lot of trouble especially if it falls into the wrong hands. To enhance the protection of private and confidential data stored in your USB drive, Corsair has brought to users a new Padlock 2 USB Flash Drive.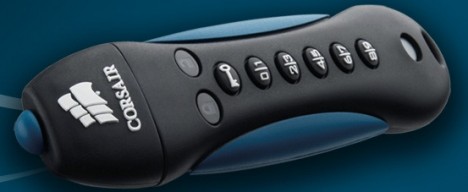 The ruggedly designed Corsair Padlock 2 USB Flash Drive features 256-bit hardware encryption. There is a pin keypad on the body which requires users to enter the relevant personal identification number in order to open and unlock the flash drive for the data stored. In the event the password is wrongly entered in a number of attempts, the device will be automatically locked for 2 minutes to prevent repeated trying. This approach will be useful to minimize hacking or illegal access. In the event users forget their own password, they can reset the Flash Padlock to its factory default state. However all data from the drive will be automatically deleted in doing so.
The Corsair Flash Padlock 2 offers 8GB storage capability which is ample for users to store quite a substantial amount of information. This interesting USB drive does not require any software installation. It is compatible with the Windows, Mac or Linux platform. The Padlock 2 USB Flash Drive is particularly useful if you need to pass some data to a friend via a third party; you can rest easy that the middle person cannot access your data without the password.