Microsoft has released an update to the notorious and controversial Windows Genuine Advantage (WGA) Notifications to version 1.7.17.0 (or 1.7.0017.0) on 16th February 2007 (been further updated to version 1.7.0018.1 (v1.7.18.1) on 1st March 2007). The major change is the new category tag or piracy flag called "Yellow State" or "Indeterminate", which used to describe a copy of Windows XP system that "maybe pirate", or unable to perform accurate status check due to network or system failure or due to cause which is not a fault on user's side. In this state, a window pops up with message "unable to complete genuine Windows validation", and user is directed to online resources to troubleshoot the problem but is not necessarily pegged as a pirate, and thus will not be limited in ability to download additional free software from Microsoft. No matter what, if you still haven't make your Windows XP genuine, Team ETH0 has faithfully provides a crack to disable the nag message and pop up warning message plus bypass validation check.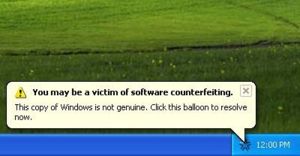 Windows Genuine Advantage Notifications (KB905474) is released by Windows Update and Automatic Updates as critical update. Depending on the suspected genuine state of Windows XP, you may have just one or two or all files upgraded to v1.7.17.0 (LegitCheckControl.dll, WgLogon.dll and WgaTray.exe). If you haven't download the hotfix, and haven't been automatically applied with the WGA update, you can skip the download and installation of the new KB905474 v1.7.0017.0. You can also press Cancel button at the Software Update Installation Wizard, as introduction about Windows Genuine Advantage Notifications is been shown this time instead of the as previously where it was installed silently without notifying user.
If you install WGA Validation Tool and Notifications, and been marked as non-genuine or pirate Windows system, you can actually use several other more effective ways to bypass, disable or crack the WGA on Windows XP, including make your Windows XP genuine permanently.
If you want the specific crack to version 1.7.17.0 of WGA Notifications, ETH0 has cracked WGA v1.7.0017.0. You can download the cracked version of WGA Notifications KB905474 version 1.7.17.0 from here (link removed).
To use the crack, simply extract the files from the archive, and execute or run the installer.bat. The crack should works on Windows Update, Microsoft Download Center and remove nag screens.
Disclaimer: This article is for informational and educational purpose only.