CradlePoint has just unveiled a new portable wireless router that is able to connect to 3G cell phone and convert it to WiFi 802.11b/g for LAN (Local Area Network) connectivity. The new router, known as PHS300 converts 3G cellular signal into Wireless LAN network in a simple setup. It is kind of similar to CT-500 model that we mentioned earlier but seems that the new gadget can be powered by battery alone for proper operation.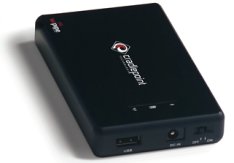 Built in the small form factor, the router device is powered by AC power like any conventional router device in the market. Besides, for those travelers that would like to carry it around, there is an option to power it using the embedded rechargeable Lithium-ion battery. Also, it can be used in the vehicle by plugging into car cigarette adapter that sold separately as accessory kit. The device offers similar security encryption features such as WPA and WEP encryption to prevent unauthorized use. It does have one USB port for connectivity to the external device. One drawback here, it doesn't come with RJ-45 ethernet which is quite common among network devices.
The product is going to be available in another 2 more weeks. At the retailed price of $180, it is quite pricey when considering no high end wireless 802.11n nor basic wired ethernet interface support.