Previously we mentioned about the way to measure PC system boot up time using BootTimer and how to optimize it using Startup Manager 2.4.1 to improve Boot up time. There seems to be a lot of concerns regarding slow system boot up time that could potentially affect the efficiency of daily work. For office use, it may be still acceptable but for certain targeted applications such as In Car Infotainment system, this is one of the crucial requirements to ensure that the end consumers won't feed up waiting for long OS loading before can really enjoy the fun while driving on the road. In order to satisfy consumers' needs, a Japanese based company, Cramworks has just released a special USB flash drive that can hopefully calm down the impatience consumers. Named as Bootplug 2, it is a 2GB USB flash memory preloaded with Linux kernel version 2.4 that will help to boot up a PC system in shortest time possible with fast boot feature enabled in the OS.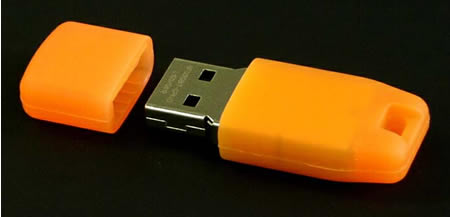 By having this special preloaded thumb drive, user can turn any normal PC to Linux client machine. What is more attractive here is it featured fast boot function that is able to boot up the whole Linux kernel in less than 10 seconds, that make it the best option among other Operating systems for In-Car Entertainment system as well as Industrial segment. Just imagine, no one would like to wait couple of minutes sitting in the car just to get the GPS (Global Positioning system) navigation application loaded up in the car mini PC system before ready for departure.
The USB device is available in Japan market at a retail price of 12600 yen, which is equivalent to $126. Although it is only 2GB in space, but by considering its advantages as a lightweight and convenient boot up media that you can carry along, it is worth the price. What is more, besides the OS storage, the flash memory allocates 1.7GB for normal applications storage such as Web browser software, remote desktop client and even Flash player 9 multimedia related application software.