With the popularity of Facebook, there may be possibility that most if not all of your colleagues, friends, buddies, family members, coworkers, university course-mates, school mates and anybody else whom you need to share documents with are on Facebook. The solution may be Docs.com, which is an collaboration effort between Microsoft FUSE Labs and Facebook to provide a basic online document editing suite. It's Office Web Apps tailored made for Facebook users.

Docs.com was officially announced and launched during Facebook f8 conference in April 21, 2010 by Mark Zuckerberg, Facebook founder. By utilizing the power of Office Web Apps and built on Office 2010, it allows user to create, edit, view, and share Word documents, Excel workbooks, PowerPoint presentations and OneNote notes, and makes it easy for Facebook users to discover, create and share Office documents with Facebook friends, directly.
With Docs, user can create new documents right from the web application or upload documents from local computer. The documents or files that are saved and hosted on the cloud-based storage can then be shared with Facebook friends. Docs allows Office files to be private documents which owned by account owner only, or user can allow a selected group of Facebook friends to edit them collaboratively. Next to each document is a button that allows user to add additional editors at any time.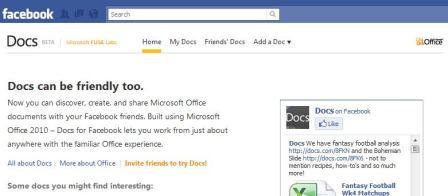 Docs integration with Facebook also provides ability for Facebook user to discover documents that his or her friends have uploaded to their profiles or walls, and been shared. It's also possible to add a new tab on the profile page that shows all the documents that are been shared with friends. Thus, the Docs can take advantage of common Facebook features such as comment for discussion in public and like, the action that can be performed on any other status update on Facebook.
To use Docs, Facebook users must first authorize the Request for Permission from Facebook Docs application.
Then, Docs can be added to the profile page, where user can create new Word documents, Excel workbooks and PowerPoint presentations. Users can also directly access docs.com, where much of the operation is done.