Finding a Wi-Fi hotspot to access the internet can be a hassle for travelers or businessmen when they come to a new and unfamiliar place. Of course mobile broadband network can facilitate those who subscribe to the service. To further enhance and make full use of your mobile broadband network, Novatel Wireless has introduced this pocket size metallic modem device, MiFi, that allows users to create a Wi-Fi hotspot using their mobile broadband network. With this Wi-Fi hotspot, user can connect a variety of devices to wireless wide-area networks or allow their closest friends, colleagues and team members to get access to the internet.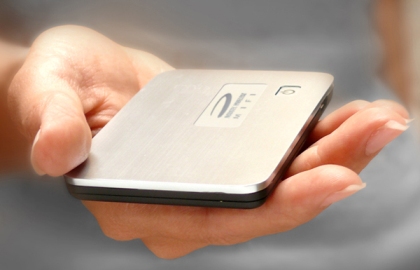 About the size of a credit card but slightly thicker, MiFi functions as a 3G modem cum wireless router. It can be connected either to HSPA or EV-DO Rev.A signal. The high speed data connection can thence be shared out via a WiFi connection. This so called "Intelligent Mobile Hotspots" as described by Novatel Wireless features an internal battery that can last up to four hours of use or 40 hours of standby time.
Priced most likely below $200, MiFi is scheduled to emerge in the market in the first half of 2009. This tiny gadget should be very attractive for travelers or those who are always on the move.