With the technology shift everything has been converted from analog to digital and similarly goes to musical industries. If you still keep your favorite cassette tapes or Vinyl records that cannot be played by current PMD (Portable Media device) or MP3 players, why not try to find a way to convert them into digital formats so that they are compatible with existing players and that is how this simple solution from Creative may able to assist you.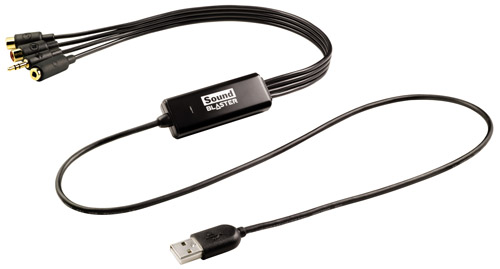 Named as Creative Sound Blaster Easy Record, it is an all-in-one solution that allows users to convert their aging analog physical music libraries into digital formats such as famous MP3 or AAC, making them compatible to run in today's media players. The cabling setup is pretty straight forward, with one of the cable end featuring stereo RCA ports that can be connected to cassette player while on the other end, users can just plug into normal PC USB port for the conversion to take place. Besides the customized-made cable, users will need the bundled Smart Recorder software in order to complete the full conversion. Basically there are two features – Audio Clean-Up and Track Segmentation with each of them able to handle the the respective functions smoothly. For Audio Clean-Up, it can effectively clean up the hisses, pops and noises while Track Segmentation will able to detect silence and split them into different tracks as necessarily.
Priced at $34.95, the solution will be commercialized by mid of October and consumers can purchase it from Creative online store directly.