The global market leader in digital entertainment products, Creative has introduced its next generation portable media player, named as Creative ZEN X-Fi2, which features 3-inch touchscreen display and award-winning Xtreme Fidelity X-Fi audio technology, aiming to provide users an ultimate audio experience.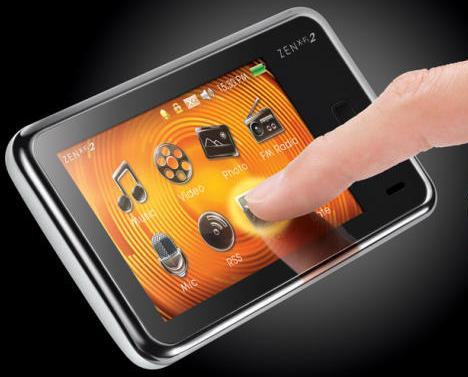 "In setting out to design our next generation player, we felt it was essential that we start with the sound quality of the ZEN X-Fi player and make the ZEN X-Fi2 sound even better by implementing the latest X-Fi technology. We wanted to have X-Fi improve the audio playback across all modes of entertainment including music, video and FM music from the radio. Next, we added features to significantly enhance the user experience for music, photos and videos, all in a player with a sleek design," said Joseph Liow, Vice President, Personal Digital Entertainment Products of Creative Technology Ltd and General Manager of Creative Labs Asia. "We wanted to make the ZEN X-Fi2 even more fun to use by implementing a touch screen interface. To upgrade the video watching experience, we increased the size of the display with a stunning 3-inch touch screen. The combination of adding a touch screen and a larger display also substantially enhances photo viewing, as now users can quickly and easily scroll through photos."
Main Features Of Creative ZEN X-Fi2:
Vibrant, intuitive 3-inch TFT Touch Screen LCD (400 x 240 pixels resolution) with 262k colors
Adjustable X-Fi Crystalizer allows users to experience the very essence of music perfection as it intelligently restores detail lost during file compression with just one touch
X-Fi Expand lets users enjoy the most natural sound staging available in headphone audio today
Built-in stereo speaker, and microphone for voice recording
Integrated FM radio with 32 preset stations
Supports RSS feeds offline (Sync via PC/laptop connected to Internet)
Supports wide range of audio formats including MP3, WMA(DRM9), Audible4, AAC (iTunes Plus) and FLAC (Free Lossless Audio Codec)
Video format support: WMV9, MPEG4-SP, DivX 4/5, XviD ; Photo formats: JPEG, BMP
microSD memory card slot for expanded memory
Bundled with high-quality EP-630 in-ear earphones delivers optimum fit for long periods of audio use
Battery life: Up to 25hrs of audio playback or up to 5hrs of video playback
"To further enhance the video and photo playback capability, we've added a TV out connector so that users can easily connect the ZEN X-Fi2 to a TV. To achieve a sleeker design, we've incorporated a microSD slot compared to the larger SD slot on the ZEN X-Fi," added by Joseph Liow. "The ZEN X-Fi2 is also substantially slimmer than the ZEN X-Fi, plus the overall feel of the player in your hand is improved by its curved design. With all of these additional features, we're really pleased that we are able to achieve another design benchmark, bringing the ZEN X-Fi2 to market at exciting price points for our 8GB, 16GB and 32GB players."
The new slim, elegant Creative ZEN X-Fi2 PMP which measures 102 x 57 x 11.6 mm and weights a mere 75 grams will be available in 3 variants of memory capacities – 8GB, 16GB and 32GB, scheduled to hit the market soon for around $130, $180 and $230, respectively.