One of the major improvements for iPhone 4 over its previous generation iPhone 3Gs/3G is its Retina Display that is claimed to be able to display much higher resolution for greater visual experience. However, not every icon from apps developer are optimized to take advantage of Retina Display. Good news now if you are having jailbreak iPhone and with the new app named as iRetiner GUI, it can help to add Retina Display support for un-optimized icons.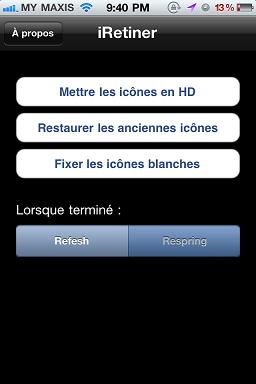 As usual, users can head over to Cydia store to download the app. Under 'Search' function, type in iRetiner GUI and you should able to find it. Tap on install button will proceed the installation process followed by device restart will make it effective. The app is based on the script made by dsx, which is available in Cydia under the name of iRetiner. In order to adapt the icons to Retina Display, just click on "Adapt icons to Retina Display" (or "Mettre les icones en HD" in French) and it will be automatically respring with reflected change. And to revert them to original, simply tap on "Revert to original icons" (or "Restaurer les anciennes icones" in French) will set them back to original condition.
Currently iRetiner GUI is free for download from Cydia under BigBoss repository and is compatible with iOS 4.0 and above so do try out if there is any visual improvement on existing apps.