The leader in networking, D-Link has announced its new ultra-wideband (UWB) wireless USB kit which named as D-Link DUB-9240. As you see in the photo, the kit that includes 4-Port Wireless USB Hub is also comes with an adapter to work with the non-wireless USB equipped PCs, which aimed to allow consumers to connect USB devices including USB printers, scanners, game controllers, flash drives, external hard drives and digital cameras to their PCs or notebooks without wire.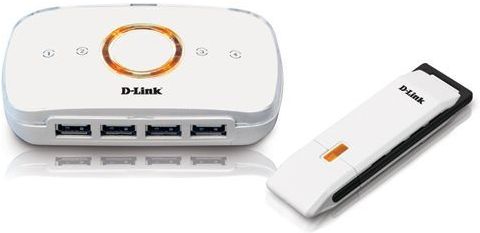 "The high data rate of the Ultra-Wideband wireless technology will enable consumers to transfer audio, video, and large data files from USB peripherals to their PCs more efficiently," said AJ Wang, chief technical officer of D-Link. "We're proud to be among the first to receive Certified Wireless USB status and be able to offer a solution that is fully compatible with upcoming Certified Wireless USB products."
With new Ultra-Wideband standard, the USB kit can support the wireless connections at distances of up to 30 feet and higher data rates up to 480 Megabits per second.
The D-Link DUB-2240 Wireless hub and DUB-1210 wireless adapter will hit the market in Q4 for $119.99 each, while the DUB-9240 Wireless USB Kit costs for $220.