The leading provider of data storage solution, Data Robotics, Inc. has launched its new professional-class storage solution designed for Windows, Mac and Linux users, named as Drobo S, which is equipped with an enhanced Firewire 800, eSATA and USB 2.0 connectivity for ultimate flexibility, built on revolutionary BeyondRAID storage technology, featuring a one-click toggle between single- and dual-drive redundancy to protect against up to two concurrent drive failures.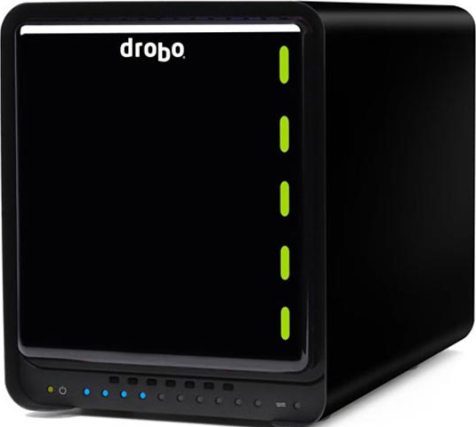 "Data Robotics' Drobo S is an important addition to the company's product line because it offers professional users a larger, faster, more reliable data storage solution with all of the automation and simplicity that Drobo fans are accustomed to," explained Brian Babineau, senior analyst at Enterprise Strategy Group. "Small offices and creative professionals generate large quantities of data that need to be kept secure for both short and long term storage. With its automatic capacity expansion and self-healing technology, Drobo S is an ideal way for customers to manage explosive data growth without becoming or hiring storage experts."
Impressive features and benefits of Data Robotics Drobo S:
Up to 5 drives of instant expansion to 10TB – Simply insert a new hard drive or replace your smallest drive with a larger one for added capacity, even when all 5 drive bays are full. The expansion is automatic, instantaneous, and access to data is always maintained.
Single- and dual-drive redundancy – Protects your data without any user interaction, even in the event of multiple drive failures.
Self-healing technology – Drobo S will continually examine the blocks and sectors on every disk to flag potential issues. The preemptive "scrubbing" helps ensure your data is being written only to the healthy areas of your drives, and automatically keeps data in the safest state possible – even when a drive fails.
"Drobo S represents our continued commitment to our customer base of professionals and small and home office users," commented Dr. Geoff Barrall, CEO and founder of Data Robotics. "Significant performance enhancements, the addition of eSATA, increased capacity, and the flexibility of single- or dual-drive redundancy make the Drobo S an ideal solution for this increasingly sophisticated set of users."
Data Robotics' Drobo S that supports NTFS, HFS Plus, EXT3, and FAT32 file formats is now available at a starting price of $799 MSRP (without drives).