The famous online retailer that provides unique and creative consumer electronics, accessories and other hard-to-find gifts, David Steele Enterprises has announced an ultimate iPod accessory that lets users take their own blood alcohol test – iBreath Breathalyzer & FM Transmitter for iPod. It's the fully functioning alcohol breathalyzer which aimed to enable all legal-age drinking adults to party freely and responsibly.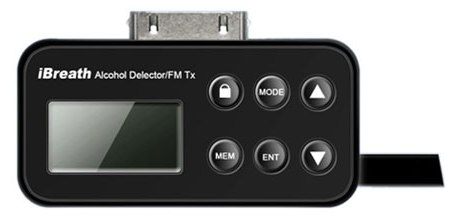 "The idea of an iPod compatible breathalyzer is terrific; especially for people who like to have a drink or two after work," said Joseph Melilo, a retired New York police officer. "It can't be any easier than blowing in the tube and looking at the sensor. I can really see these things saving lives."
According to the company, "Just fold out the blow wand and exhale into it for at least 5 seconds. 2 seconds later, this amazing tool let's you know if you're within the legal limit to drive. It even houses a timer that can be set from 1 minute up to 8 hours in order to remind you when it's time for the next test."
The new stylish and compact iBreath Breathalyzer which also doubles as an FM transmitter to transmit your iPod tunes to any FM tuner is available for about $80.