Digital-Cube has revealed its upcoming i-Station-branded PMP (Portable Media Player) T5. It is named as a 5th-generation PMP which comes with an integrated 3G HSDPA module inside mainly.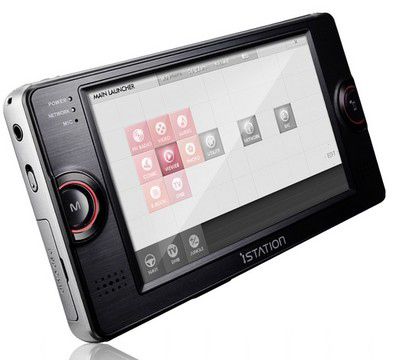 The T5 will have a new main chipset and high-performance 3D feature in response to user requests.

The following are some brief specs on the iStation T5.
New chipset (maybe Nvidia's Tegra?)
HSDPA integrated
3D UI design
4.8-inch WVGA display (should be 800 x 480 resolution)
Presently, the iStation holds about 30 to 40 percent of the PMP market share in Korea and but recently faces challenges from Cowon's new PMPs.
The T5 will be out in Korea soon, but may not overseas if Digital-Cube keeps focusing on the local market. Perhaps situation may change as early as 2009 since Digital-Cube has been bought by Telson, which has readily available overseas distribution channels.
When Digital-Cube was bought by Telson, the Digital-Cube CEO announced that it would release a PMP and mobile phone in 1Q 2009 through SK Telecom's network. Telson has mobile phones related technology while Digital-Cube has PMPs. Thus, they've merged their strengths.