Digital Foci has announced that it will introducing new Picture Porter 35 at CES 2009. Picture Porter 35 is a new high capability portable photo manager which features with a 3.5" color screen, built in hard drive with capability starting from 160GB and multi-format memory card reader. It also offers super fast copy with the speeds of 1GB data in about 2 minutes.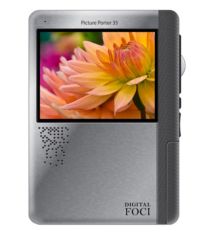 Picture Porter 35 is perfect for professional photographers and travelers where the device allows them instantly backup photos from digital camera memory cards while on photo shoots or vacation. It also supports raw images with xoom, Exif and histogram data for them to examine photos in great detail from a wide selection of dSLRs. Additionally, it also support IPTC which allow users to view IPTC metadata such as headline, copyright owner and comments embedded in the photos.
Beside that, it also features with file management which allows users to make selections, copy, rename, delete files, sort files by name and etc. The user also can attach external hard drive through it USB host as the backup drive. It also has built in new playlist that allows user to create unique photo slide show for view or playback. Others features include audio and video playback, a built in speaker, audio recorder with built in mic, multiple memory card slots and, audio and video output.