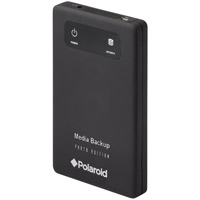 Both professional and amateur photographers now have another backup solution to store and protect their valuable photo taken during outings or travel. A great photo backup and storage product produced by a partnership between Polaroid and Storage Appliance Corporation, Polaroid Media Backup, will give you a single-step solution in protecting all your digital photos.

Polaroid Media Backup photo edition is a small rectangular black box that can be connected to your computer via the USB port. Once it is connected and recognized, just click "run software" and it will bring up the interface. From there, the media backup device will go through your files, perform automatic searches, retrieve all photos and store them on the external hard drive. You don't need to download any software or hook up with a lot of cables. Everything will be done automatically.
The small black device features a 40GB hard drive which allows you to store up to 40,000 photos. The transferring speed is fast; in average, uploading about 750 photos takes you less than two minutes. Once you have uploaded the digital photos, you can set them as your desktop, email to family and friends, print or burn them directly from the device to a CD.
Polaroid Media Backup supports Windows 2000, Windows XP and Vista. It costs about US$99.