$20,000 for a printer might sound ridiculously expensive for you. However, if you are a professional designer or planner and need to do 3D printing from time to time, the updated version of Dimension uPrint Plus from Stratasys perhaps will fit your purpose and do the job for you.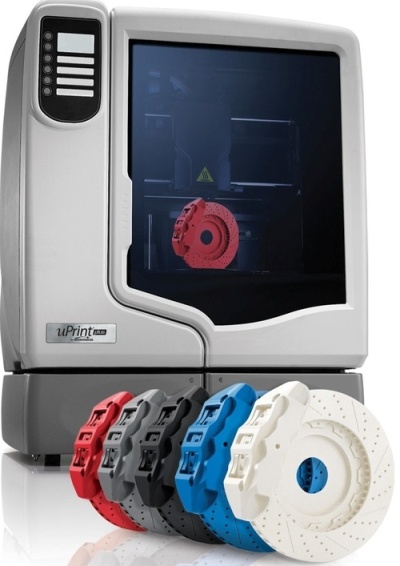 Dimension uPrint Plus has shown significant improvements in terms of features compared to its predecessor. Similar to Dimension uPrint Personal, Dimension uPrint Plus has a small footprint for true desktop use, 25 x 26 in (635 x 660 mm). Comparatively, uPrint Plus is slightly bigger (about 33%) and faster than uPrint. The updated version of the 3D printer features two support-material enhancements that reduce material consumption and modeling time. The first, Smart Supports, is a software enhancement that reduces material usage by 40 percent, cutting costs. The second, SR-30, is an improved soluble support material that dissolves 69 percent faster, to speed up the modeling process. Smart Supports is available for both uPrint and uPrint Plus.
The 3D printer can print in eight color Stratasys ABSplus material (red, blue, olive, black, dark gray, nectarine, fluorescent yellow, and ivory) and offers two resolution settings – 0.010 in (0.254 mm) and 0.013 in (0.330 mm) for more printing options.
"When the uPrint was introduced one year ago, it quickly became the best-selling 3D printer worldwide, with 1,000 units sold in the first 9 months," says Dimension Product Manager Mary Stanley. "Based on its success and customer requests for expanded features, the uPrint Plus was created. Now designers, engineers and architects have expanded options for building models based on proven FDM technology."