Microsoft has officially released Windows 7 Service Pack 1 RTM comprising the previously released security patches, performance and stability updates. There are a few convenient ways to obtain this service pack via online mode, including direct download from Microsoft Download Center or just allow the Windows Update to take care the service pack installation automatically.

However, if you do not wish to utilize the network bandwidth to download the gigantic service pack build, you can opt to order DVDs that contain the first service pack for Windows 7. In order to cater for the Windows 7 machines that are not connected to the Internet, the Redmond company is providing the DVD to the customers from various countries in North America, South America, Africa, Europe and Asia.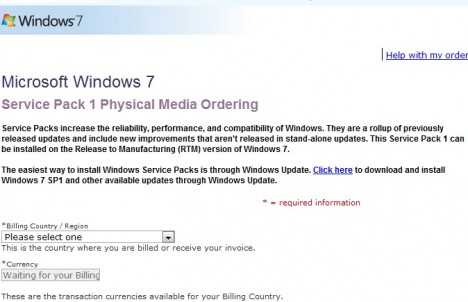 Each customer is eligible to order up to 3 copies of the physical media DVD. Note that the DVD only contains the service pack build and the Windows 7 setup installer is not bundled. In other words, it's not Windows 7 with SP1 integrated DVD media. Although the product DVD media itself is free of charge, but the shipping and packaging costs apply.
Here's the direct link to order Windows 7 SP1 RTM DVD:
US/Canada: https://om2.one.microsoft.com/opa/start.om?StoreID=d8f7bc03-a729-4829-88fe-3060615fec1b
International: https://om2.one.microsoft.com/opa/start.om?storeid=2D43158F-9EF0-472D-8D70-ECC0E0102782