There are many utilities such as Disk Space Analyzer, Xinorbis and Simple Directory Analyzer that can examine and dissect folders and files structure in details but in case you are not truly satisfied with any of them and would like to try something new, here is an alternative that you can consider. Named as Disk Space Fan, it is a free utility that can analyze and display all your folder structure with files allocations so that you are aware of which types of files have taken most of its space and if they can be deleted for better hard disk space optimization.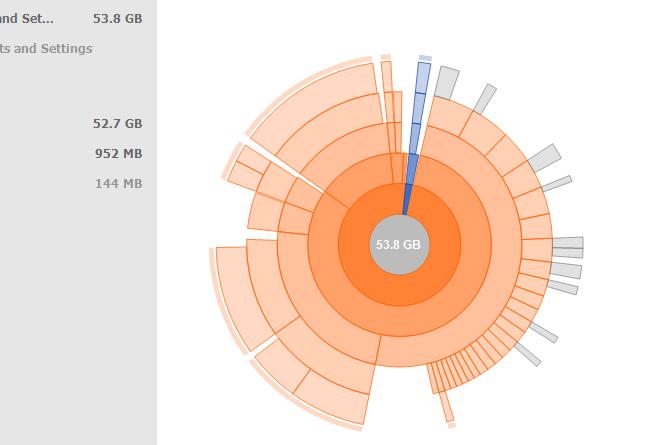 Once download and install the utility, users will be brought to a simple interface. On high level, it will display the full capacity, usage as well as the free capacity of the particular drive. In order to figure out the details, just select the desired directory such as C:\ or specific folder by browsing directly followed with a single click on 'Scan' button to activate the scanning. Depending on the total capacity and files residing on the directories, it takes seconds to analyze all the directories and categorize them properly either as documents, program files, system files and etc by file size so that you aware how your hard disk space has been utilized. Double clicking on any of them will disclose next level of details on which particular files/folders that contribute to the memory space occupancy. All these are shown in colorful graphical pie chart view with all the next level details being labeled clearly even including number of files, folders and its capacity.
Consumed around 1.2MB, Disk Space Fan is compatible to run with Windows XP, Vista, Windows 7 with the only requirement of .net 2.0 or above for it to work correctly.