Previously we talked about the USB to DVI Adapter for Multiple High Resolution Display by Sewell. Now it seems that the similar technology has been deployed by DisplayLink but with further enhancement. Working together with Alereon, the US based company has decided to convert the display adapter from 'wired' USB based to wireless UWB (Ultra Wide Band) technology. By using the UWB technology, traditional way of connecting display panel to PC using DVI, VGA or even USB has been eliminated by which it can be achieved wirelessly now.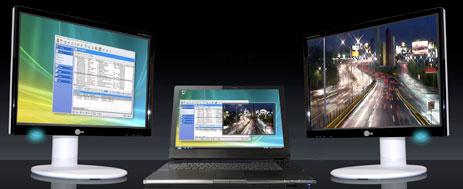 The reference design integrates Alereon's chipset AL5000 that communicates in the range of 3.1GHz to 10.6GHz with DisplayLink's high resolution display technology. It is capable to achieve high resolution of 1680 X 1050 with 16.7 million colors. The advantage can be quite significant especially when few display panels are needed with plenty of cabling running around the small working space. By eliminating the use of wires, the setup and cabling management can be simplified. Besides, placement between PC and display panels can be arranged without much restriction.
Currently the effort is still in very preliminary design stage as the reference design board is targeted only for OEM (Original Equipment Manufacturer). So it will take a while before the total solution can be integrated into end products. Although it is not disclosed, hopefully it will able to support HD (High Definition) media streaming in short future.