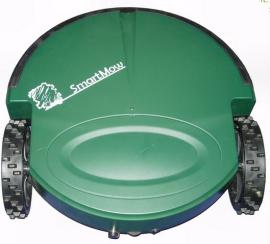 Moving grass has never been easier with the latest gadgets which allow you to relax while the machines do all the hard work. SmartMow by RoboLabs is the latest in a line of wonder gadgets that can keep your lawns tidy and neat with minimum effort.
The mower has a security key which is needed to activate the machine and prevent accidents or theft. A perimeter wire (100 m) is installed and the mover works by moving in a circular motion to detect the wire and follow it back to the docking station. The mower will then continue to cut the grass in a random manner within the perimeter. If there are some hard to reach patches, there is a remote control for users to maneuver the machine into these areas.

SmartMow also comes with an infrared sensor to detect objects or obstacles in its path and avoid them. Bumper switches enable the mower to turn around if it does come into contact with an object in its path. However, homeowners are still advised to remove all debris such as sticks and branches on their lawn before mowing. Another interesting feature of SmartMow is that it operates with environmentally-friendly Lithium-ion batteries. Priced at $999.99, it is cheaper than the rates offered by most lawn care services.
Below is an outline of the product specifications for SmartMow:
Product Specifications
Size (base station included): 54 x 70 x 21 cm (approximately 21 x 27 x 8 inches)
Average Area Covered per Charge: 200~300 m^2 (approximately 3,230 sq. feet)
Suggested Area: 700-1500 m^2 (approximately 16,145 sq. feet)
Average Working Time: 2~3 hours
Drive Wheels: Anti tip wheel
Cutting Width: 31cm ,3 blades (approximately 12 inches)
Blade Size: 11cm L (approximately 4 inches long)
Blade Speed: 7200 rpm
Cutting Height: 5cm-10cm (approximately 2-4 inches)
Noise Level: 65 db
Maximum Slope: 30 degrees
Number of Batteries: 1
Battery Type: Lithium 24V 8aH
Charge Time: 4 hours
Dimensions: 54x50x20cm (approximately 21x19x8 inches)
Weight (including battery): 7.8kg (approximately 17 lbs.)