The famous network solutions provider, D-Link has just announced the new Wireless N Router with powerful Quadband capability. Named as DIR-855, it is the first 802.11n certified router that is able to scale up the throughput significantly with advanced technology utilizing both 2.4GHz and 5GHz channels simultaneously. Amazingly, it is claimed to be able to support multiple HD (High Definition) media streaming in digital home with the availability of total bandwidth of 600Mbps!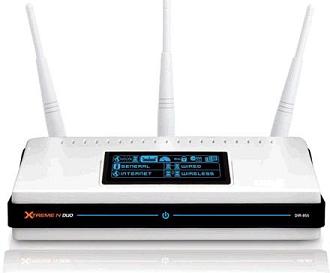 By segregating the network traffics using both 2.4GHz and 5GHz channel bandwidth, user will be able to have better QoS (Quality of Service) ensuring higher priority traffics being served first. For instances, user can configure the latency sensitive traffics such as HD media streaming and VOIP (Voice over IP) to be running on 5GHz channel and leaving web surfing on 2.4GHz channel. Another advantage of using 5GHz frequency is its channel is wider with less traffic congestion as compared to 2.4GHz that is already being crowded by consumer devices such as cordless phone, baby monitor and etc. Furthermore, its outlook is stylish with OLED display and 3 pairs of external antennas featuring MIMO (Multiple In Multiple Output) technology.
The product will be available in commercial market in May at £170. Good news here is, it is backward compatible with existing 802.11a and 802.11g wireless protocol. Only one drawback, in order to utilize the benefit, the client chipset needs to have similar features of dual band support (example: Dlink DWA-160 USB adapter) so that it can detect and decode the data transmission for these two bands simultaneously.