Want to do some monetary donation charity, but feel that there you're strapped of cash and not deep pocket enough? Why not let Microsoft does the donation for you? If you're intending to download Internet Explorer 8 (IE8), why not do the charity at the same time, where Microsoft will donate $1.15 per download to Feeding America, provided you're download IE8 through "Browser for the Better" website before August 8, 2009.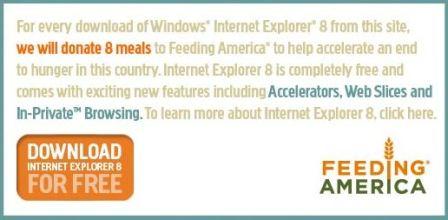 From June 8, 2008 through August 8, 2009, Microsoft will donate $1.15 Feeding America for every completed download of Windows Internet Explorer 8 through browserforthebetter.com. $1.15 is financial equivalent of eight meals to Feeding America's network of 206 local food banks, according to Microsoft's press release. Up to a maximum of $1,000,000 can be donated, with mean conversion effective until June 30th, 2010.
Feeding America is the nation's leading domestic hunger-relief charity in the United States, providing free or reduced-price food assistance to more than 25 million low-income people facing hunger in the United States, including more than 9 million children and nearly 3 million seniors. More than 2 billion pounds of donated food and grocery products are secured and distributed by the Feeding America network annually, which works with approximately 63,000 local charitable agencies that distribute food directly to Americans in need.
Important thing to note is that, to qualify for the donation, download of IE8 must be initiated from http://www.browserforthebetter.com/download.html.