Adobe Reader (formerly known as Acrobat Reader) is a family of computer programs developed by Adobe Systems for viewing and printing of PDF files. In effort to allow Android users to enjoy free PDF reader, Adobe has finally released its Adobe Reader for Android which extends Adobe PDF software to device base on the Android platform. The Adobe Reader app for Android has been designed for users to easily view the PDF files on their Android devices whether they are browsing the web, open PDF documents or reading e-mail with accurate and reliable.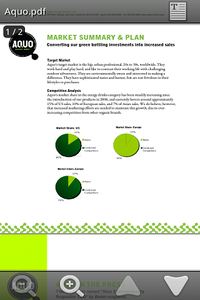 Features of the Adobe Reader for Android includes:
Open PDF files via Adobe Reader by selecting the PDF document as an email attachment or as a web-link.
Accurate and high-quality rendering of the PDF document.
Supports both Portrait and Landscape view depending on the device orientation.
Supports advanced zoom, scroll and reflow view functionality that make it easy to read and navigate through the PDF document.
Supports keyboard shortcuts to navigate to the Next and Previous section as well as Zoom In and Out on the PDF file.
The Adobe Reader for Android works well in Android version 2.1 and above with minimum specification of 550MHz processor, 256MB of RAM and 4.3MB of available disk space. According to the , the Adobe Reader for Android has been tested works well in Motorola Droid, Motorola Milestone and Google Nexus One Android smartphones (expected to work well in other Android devices). The Adobe Reader is now available as a free download at the Android Market.
Steps to download and install Adobe Reader For Android devices:
Searching "Adobe Reader" in the Market application from Android smartphones.
After that, select and install Adobe Reader through the Android Market.
Alternatively, just use the phone to scan the QR code below: