Amazon Appstore for Android is a new applications marketplace for Android-based mobile phone and tablet devices introduced by Amazon, in addition to by default factory built-in Android Market. Amazon launches the Amazon Appstore for Android with around 3800 apps on March 21st, 2011, and boosts the new app store as the place for Android users to get a paid app for free every day.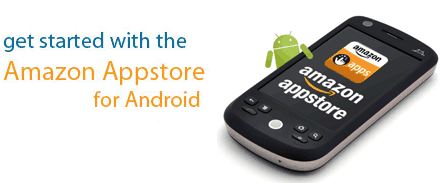 Features of Amazon Appstore:
A free paid commercial app everyday.
View app recommendations based on past purchases on Amazon.
Shop using Amazon's trusted payment technology.
Shop from computer, or directly on phone or Internet tablet.
Amazon Appstore for Android has apps from almost all categories, including Books & Comics, City Info, Communication, Cooking, Education, Entertainment, Finance, Games, Health & Fitness, Kids', Lifestyle, Magazines, Music, Navigation, News & Weather, Novelty, Photography, Productivity, Real Estate, Reference, Ringtones, Shopping, Social Networking, Sports, Themes, Travel, Utilities and Web Browsers.
What makes Amazon Appstore a must is that it contains some exclusive apps which otherwise won't be found on Android Market. For example, free Angry Birds Rio game which is available for free download for a limited time in conjunction with the launch of Amazone App Store.
Amazon Appstore is currently available only for Android users in customers located in the United States (USA) from amazon.com, where user can submit email address or mobile phone number to get a link to download the Amazon Appstore for Android or the following QR Code. Non-US International user will get a message saying "The Amazon Appstore is only available to customers located in the United States" instead, though there is hack to enable getting apps from Amazon Appstore from outside US.
Though Amazon AppStore is currently only available in the United States of America, it's still possible to download and install Amazon Appstore from anywhere and everywhere in the world, by using the direct download link to the Amazon Appstore .apk file.
Download Amazon Appstore: Amazon_Appstore-release.apk
Here's the guide on how to install the an app for Android in .apk format, which is applicable for Amazon Appstore for Android too. In addition, you may need to allow install of "unknown sources" apps in "Settings" -> "Applications".
User can then browse the Amazon Appstore using the app or online at http://www.amazon.com/appstore
(aff).
Note that even after you install Amazon Appstore, you still may not able to purchase paid apps or download and install free apps available on the App Store due to geographic restriction if you're not in US, with the following error displayed when purchase failed: "The Amazon Appstore for Android is not yet available in your region", or "We could not process your order because of geographical restrictions on the product which you were attempting to purchase. Please refer to the terms of use for this product to determine the geographical restrictions. We apologize for any inconvenience this may have caused you". Even using a US-based VPN such as Hotspot Shield may not help, as customer is required to have 1-Click payment method associated with the Amazon account which has a credit or debit card issued by a U.S. Bank with a U.S. billing address to successfully purchase digital content from Amazon Appstore for Android.