Previously we mentioned about Disk Redactor that can securely delete all sensitive personal contents in Windows PC, but if you are looking for an alternative solution, you may want to give this free software utility a try. Named as Disk Wipe, it is a simple yet powerful disk wiping utility that can help to securely delete confidential data utilizing various sophisticated shredding algorithm at consumer selections.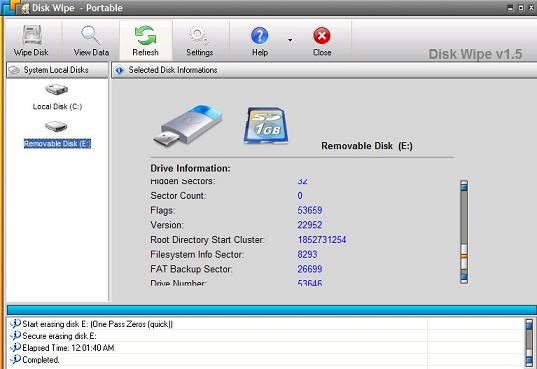 As you may know, deleting files or even formatting media drives is no longer a secure way as it may able to be recovered by some utility such as DiskDigger or etc. In order to permanently destroy all the data traces, Disk Wipe utilizes advanced shredding patterns such as Russian GOST, British HMG IS5, US DoD (Department of Defense) techniques so that the data will no longer recoverable. Similar to some of the wiping utility, it can be used to delete any media drives such as memory cards, USB thumb drives and etc besides conventional system hard disk drives. The speed of deletion will be depending on the method selection as well as the drives' size.
Good thing is, the Disk Wipe is a completely standalone and portable that doesn't require any installation. Consumed around 1MB of your hard disk space, it is a good software utility that can be downloadable at here for free of charge.