Mozilla Firefox will be entering a rapid development cycle with quick release of successive builds, with both early builds of both Firefox 5 and Firefox 6 versions been released for consumption, which very much mirror the practice took by Google Chrome development, which may see its early access release channels of beta, dev or canary has upgrade as soon as every day or two.

As part of the rapid development cycle, Mozilla is creating another release channel named Aurora in order to allow early adopters a chance to test and experience latest features and innovations at various levels of quality and polish. The Aurora channel is in addition to existing nightly test builds (also known as Minefield), beta and final release channel. According to Mozilla blog explains that the Aurora channel is where users can test the latest features and innovations. Users can expect an increase in polish from the raw, cutting edge features in our nightly builds." Though Aurora is intended to be a rather stable release for technical savvy due to the fact that some testing been done, it still may not be as stable as beta or final releases.
The Firefox web browser from both the nightly builds and Aurora channels spot a different new logo than those on beta or final release.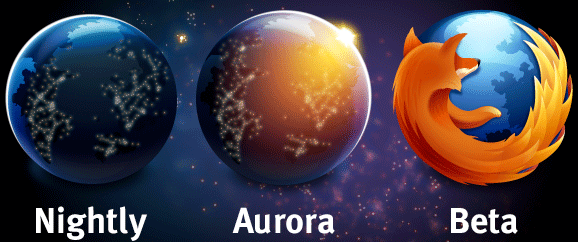 As the result of the change, Firefox now has the next two versions in development, Firefox 5 and Firefox 6, been released in different early access release channels. Firefox 5 is now been released in Aurora channel, while Firefox 6 in nightly builds channel.
The introduction of Aurora channel is filling the void where some eager enthusiasts can't wait for the release of official beta version of next version of Firefox, but simply want to upgrade to next version without having the risk of installing untested nightly builds. With the change to rapid release of Firefox builds, the official availability of next version of Firefox may become a non-event, but may help gaining market share as Firefox will be perceived as going through active development.
How to Download Firefox 5 from Aurora Channel and Firefox 6 from Nightly Builds
Mozilla Firefox 5 (Aurora): http://www.mozilla.com/firefox/channel/ (only Windows builds are listed) or Mozilla FTP server (for Windows, Mac OS X and Linux builds)
Mozilla Firefox 6 (Nightly Builds): http://nightly.mozilla.org/ or Moziila FTP Server
Mozilla Firefox 6 is currently the only version which has an official 64-bit (x64) version available for Windows platform. If you install the nightly built Firefox 6, you may want to upgrade to new build everyday.
The early release version of Firefox will install in parallel with current Firefox 4. But as they share profile, it's recommended to only run one version at any one time to avoid corruption or mess.
Mozilla plans to release a new major version of Firefox at every six to sixteen week intervals, which scheduled final release of Firefox currently sets on June 21, 2011 and Firefox 6 on August 18, 2011. In fact, Firefox 7 may also also been shipped by the close of 2011, with early builds available as soon as Firefox 5 is shipped.
Update: Firefox 5 is now beta, with versions at channels as Firefox Aurora 6 and Firefox Nightly 7.