It seems that the rapid development cycle for Firefox is indeed very fast. Barely a month ago when Firefox 5 and 6 was released in channel respectively, Mozilla development team has moved its next generation Firefox 5 to beta channel after several weeks on Firefox Aurora channel. Similar to the Firefox 4, this release is also includes lot of features, enhancements, security updates, stability and improvements.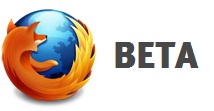 Key features of the Firefox 5 beta includes
Supports for CSS animations.
Supports for Firefox channel switcher.
Improved JavaScript, memory and networking performance.
Improved standards support for HTML5, XHR, MathML, SMIL and canvas.
Improved desktop environment integration for Linux users.
Anyway, if you like to know further details of the stability enhancement and other fixes can refer to complete list of bugs fixed.
Those users who like to enjoy the new features of Firefox 5 beta prior the final released of Firexfox 5 on June 21, can download from http://www.mozilla.com/en-US/firefox/all-beta.html or through the below direct download link for Firefox 5 Beta 2 for Windows, Linux and Mac platform.
Download Firefox 5 beta 2:
Firefox 5 beta 2 (Windows): Firefox Setup 5.0b2.exe
Firefox 5 beta 2 (Linux): firefox-5.0b2.tar.bz2
Firefox 5 beta 2 (Mac): Firefox 5.0b2.dmg
Though Firefox 5 is not in beta, Firefox 6 (which has both 32-bit and 64-bit versions) does not yet move up to Aurora channel.
Update: Firefox 5 final has been released, and Firefox 6 and Firefox 7 has been moved to beta and aurora channel respectively.