Previously we mentioned about web based PDFTextOnline that is able to convert any PDF files into text format without the need to download and install in local system. It is quite useful with condition that your area has good and stable internet coverage. If it is not, here is an alternative solution that can help you achieve this same objective. Named as Ease PDF to Text Extractor v1.10, it is a very lightweight freeware that can convert any PDF based files in bulk into text files with just few simple clicks.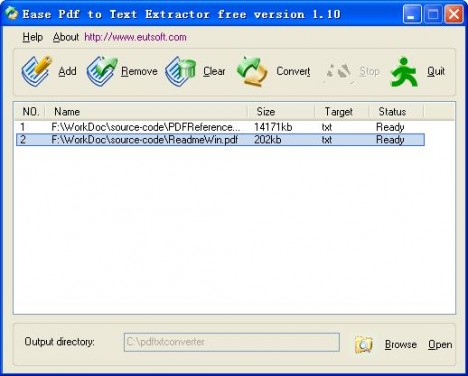 The software utility comes with very user friendly GUI and users will be able to convert any PDF files in less than three simple steps, First, just browse and add those PDF files into the list. Secondly, configure the output folder to store all the output files into it. Once ready, just click on 'Convert' button to execute the conversion. Good thing about this utility is users can add as many PDF files as possible and do the conversion at once. However, as similar to other converter, it won't work for those PDF files that are scanned or image files as expected.
The software utility is compatible with all Windows OS such as Windows 2000, XP and Vista OS. Consuming a merely 2.24MB, it is worth to have one installed in your PC system to be used anytime.