Previously we talked about PDF Hammer that helps user to edit any PDF documents online in few easy steps. Now I just came across another useful tool that can convert PDF format documents into text files, so that it can be editable offline without hassle. Similar to PDF Hammer, the tool that known as PDFTextOnline, is an online tool which doesn't require installation and can be used immediately once you enter the official website. One advantage here, it is claimed to be able to extract multiple foreign languages and font formats in few simple steps.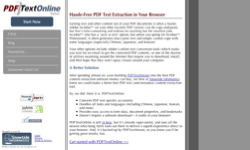 With PDFTextOnline tool, it allows user to extract all the text from the original PDF files. The extracted text file's page layout and font can be changed easily by just few clicks. You won't see any fancy features online but instead, just few simple buttons for you to browse, upload and save to text. I have tried it once and it works great! I managed to upload and convert a 300 kB PDF file in less than a minute. Good thing is, it extracted the file along with bookmarks, document properties and etc so that it will tag along.
Only few basic requirements, you need to either have Internet Explorer 6, Firefox 1.5 or Safari 2 and of course Internet connection for you to upload to its server for conversion to take place. The online tool is no longer beta version, so use it with confidence for your PDF document conversion.