Apple has launched the newest version of the world's most popular software application to purchase, manage and play media – iTunes 9, which features iTunes LP, Home Sharing, Genius Mixes and redesigned store, as well as improved syncing, aiming to bring your iTunes experience to a next level.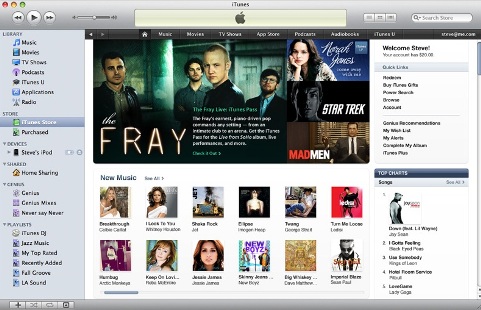 Features Of iTunes 9:
iTunes LP delivers a rich, immersive experience for select albums on the iTunes Store by combining beautiful design with expanded visual features such as live performance videos, lyrics, artwork, liner notes, interviews, photos, album credits and more
iTunes Extras provides a similar experience for movies on iTunes Store with features including documentaries, deleted scenes, interviews and interactive galleries
Home Sharing lets users easily transfer music, movies and TV shows among up to 5 authorized computers in their home
Genius Mixes performs as a 'Genius DJ' that automatically generates up to 12 endless mixes of songs from your iTunes library that go great together
Redesigned iTunes Store with beautiful redesign and refined navigation, making it easy to explore songs, movies, TV shows, and more
Improved syncing in iTunes 9 and iPhone OS 3.1 provide users a new, more flexible ways to sync their entertainment media from computer to their beloved iPhone or iPod, organizing their iPhone apps right in iTunes
"iTunes 9 is a great iTunes release, with innovative features that make using iTunes better than ever and iTunes content richer than ever," said Steve Jobs, CEO at Apple. "iTunes LP, for example, lets artists share more of their creativity with fans and gives music lovers the feeling of being immersed in an entire album with art, lyrics, liner notes, photos and videos."
Download free iTunes 9 software application now at www.itunes.com to enhance your iTunes experience! In addition, iTunes Store on iPhone now offers precut ringtone downloads with more than 20,000 ring tones priced at just $1.29.
Update: iTunes 9.1