There are several way to share your favorite photos with your friends such as create a slide show, , share photos online and etc. Before doing that, you may require a photo organizer to manage your photos. Here is a free and light weight application that able to manage, tag and share your photos online which known as My Photo Index. My Photo Index has been designed with simple user friendly interface that focuses in image tagging and cataloging.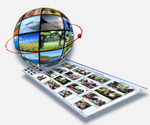 The users can easily tag their photos and share them with online social networking services like Facebook or Flickr. The application supports all major file types including BMP, GIF, PNG, TIFF as well as AVI files. It also can read and convert RAW image formats.
My Photo Index includes the following features:
Image Format Support – supports all major file types including BMP, GIF, JPG, PNG, TIFF as well as AVI files And major RAW formats.
Flexible search – can search for Tags, comments and dates, using standard text search or via Date pickers and auto-complete features.
Image Tagging & Searching – supports unlimited number of tags or nesting levels, and also supports super fast tag selection.
Image Sharing – support sharing images within Flickr, Facebook, Pic4u and Mail clients.
Image Importing – support simple import capabilities from local drives or network drives as well as from digital cameras or removable drive using WIA technology.
Flexible Printing Layouts – supports various printing formats including 4×6-inches images to be placed in photo albums.
Image Versioning – automatically creates a backup of your image and creates a version set. When editing images it is a common practice to save the original unedited images.
Image Rating – enables built in image rating & sorting system.
Image Privacy Protection – built in image encryption system, images are encrypted on disk with a password that can be set per image to fully protect your private images.
Fast Cached Image Browser – uses a proprietary binary cache mechanism to support thousands of cached images loaded and displayed in a flash, with low memory footprint.
My Photo Index is available as an open source photo organizer for free download.