Previously we mentioned about PDFSam that can split and merge PDF files, here comes a similar utility that can offer the same assistance. Named as PDF Split Merge Extract and as it implies, the utility allows users to edit PDF files with ability to split them into multiple files, merge or extract certain information as necessary.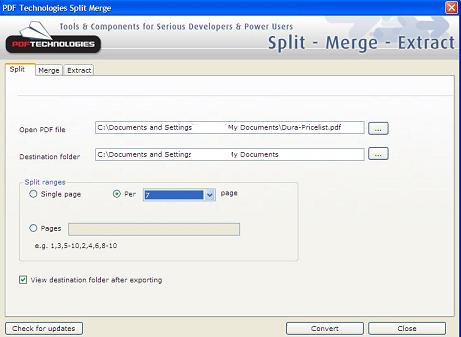 Once install and launch the utility, users will be brought to a simple interface. Basically, it consists of three main tabs, namely Split, Merge and Extract and by clicking on them will prompt out next steps on how to perform the conversion. For Split function, users can first browse for respective PDF file with specified split ranges (single page, split per number of pages, or only on specific pages) and it can be converted instantaneously. Whereas for the Merge function, just select multiple PDF files and all these can be combined with a new output file defined in new destination. Last but not least, an Extract feature offers the ability to extract certain pages from the whole document which could be very useful especially when trying to share out certain pages only instead of whole bulky document unnecessarily.
Consumed less than 1.5MB of your hard disk space and compatible to run with Windows Operating Systems, PDF Split Merge Extract is free for download here for personal use.