Previously we mentioned about Free Ease PDF to Text Extractor that can convert pdf format to text files in bulk, now there is another tool that can convert PDF to Word document. Of course you can just copy all the text from PDF and paste into the word document, but you may need to sacrifice all the original shape and format. Now with the Free PDF to Word Doc Converter, it will have the option to retain all the original Shapes and Images with purely format conversion without altering much of the original pattern.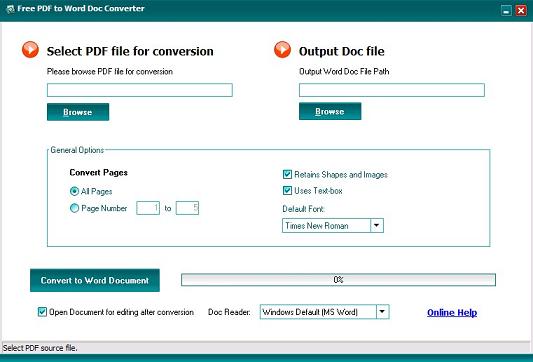 Once installed and launched the software utility, just browse for the specific PDF file as similar to other tools, select the output doc file that it will output to by browsing to output word doc file path to desired directory. Besides, there are some general options that users can configure such as converting the whole document, or only specific page number for that particular document. As mentioned, there is a way to maintain the original shapes and images or if you just interested on the text to conserve memory space, just untick the box besides 'Retains Shapes and Images' and you are done.
One drawback, the software tool can only convert one PDF document at a time but not in bulk. Anyway, consumed at only 1.07MB, users can get a free download at hellopdf for immediate use.