Designing and creating an interactive and dynamic web page is not an easy task if the designers lack substantial knowledge in markup languages and programming languages such as HTML, XHTML, XML, JavaScript, CSS, PHP, ASP, etc. Having said that, with a powerful web designing software such as Web Easy 7 Express, anybody can easily create their own website without much difficulty.

Developed by Avanquest, Web Easy 7 Express is a simple yet powerful and effective web creation application that allows amateur or non-professional web designers and even non tech savvy users to create professional websites with drag-and-drop simplicity. The designing and creating process is pretty straightforward and a website can be created in just an hour. The web designing tool offers users a wide range of pre-designed templates and media library together with a handful of editing tools for users to quickly design a new professional web site.
Users who plan to design their own websites can grab the Web Easy 7 Express application for FREE via the current Avanquest free software promotional campaign. Avanquest is giving away the full version of this web design tool without any cost. If users want to grab this free software, users can go to the Avanquest promotional site via the link here. Users need to register an account with Avanquest if they haven't. If they have registered, users just need to key in their email address under "For Avanquest Registered Users:" box.

Users will thence be prompted with the download link together with a valid password for activation. The same activation password will also be sent to users via the email entered.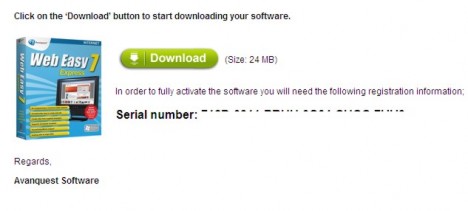 Once users have downloaded the web design software, users need to key in the activation password given for activation. The installation process is quite fast. Users can start using the software upon the full installation. Since the Web Easy 7 Express is a simplified version of Web Easy 7 Professional, users will find some of the features such as E-Commerce tools, SEO, etc in the Web Easy 7 Express have been disabled. Even though these features are disabled, the free Web Easy 7 Express can still be produce a professional website.