Microsoft has launched Windows Insider Program to allow PC experts and IT Pros to gain access to a technical preview of Windows 10 (previously known as Windows 9) for desktops and laptops, with technical previews of Windows Server and our management tools coming soon after. The Windows Insider Program is expected to go live on October 1st, 2014, where Windows enthusiasts will get to download Windows 10 ISO and receive the free preview product key to activate the system.

According to Terry Myerson, Microsoft's Executive Vice President of Operating Systems, Microsoft plans to share more than ever before, earlier than ever before, and more engaging with its fan base in developing Windows 10. In fact, the general availability (GA) of Windows 10 is expected only in later 2015, but Microsoft is already releasing a preview. This is contrary to development of previous Windows OSes, where most early releases were leaks, with official preview or beta only available few months in advance. In addition, Microsoft plans to build Windows 10 together by inviting users to give them feedback via Windows Feedback app. However, how effectively Microsoft is going to handle the feedback remains to be seen.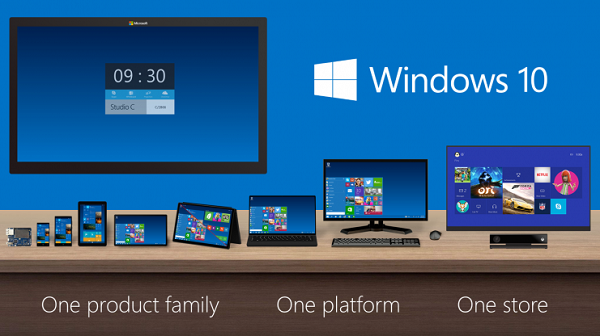 According to Blogging Windows, the Windows Insider Program is intended for PC experts and IT pros who are comfortable using pre-release software with variable quality. Insiders will receive a steady stream of early builds (i.e. updates) with the latest features to experiment with. So, expect a lot of restarts and bug fixes.
The Windows Insider Program with the downloads is accessible from http://preview.windows.com/.
Update: You can now sign up for Windows Insider Program via https://insider.windows.com/.
Update: Download links and product key for Windows 10 Preview.
Currently, the download page is not live yet. Instead visitors are shown the following text: "Windows Insider Program is almost here." The download links are expected to live from 09:00 PDT (16:00 UTC/GMT).
Alternatively, if you're Microsoft's partner, you can also access the Windows 10 download from TechNet at http://technet.microsoft.com/en-us/windows/dn798751. This URL in UAT stage (i.e. http://uat.technet.microsoft.com/en-us/windows/dn798751) had previously been accidentally posted online, and is the one which named the Windows 10 as Windows TH (though most likely it's the abbreviation for codename Windows THreshold). The leaked Windows 10 download page also listed the download size and SHA-1 of various Windows 10 ISOs, as following:
English 64-bit (x64) (4.10 GB) EB75A3D3C0F621F175B75DC65DB036D0E00EAC43
English 32-bit (x86) (3.16 GB) 73AC23AD89489855F33CA224F196327740057E2E
English (United Kingdom) 64-bit (x64) (4.08 GB) 17C6CD7224D13DB61B93A4A9D38202E3A0019378
English (United Kingdom) 32-bit (x86) (3.17 GB) BFF496678A092557388FBFA14903295D55478C33
Chinese (Simplified) 64-bit (x64) (4.26 GB) 135E3193571C5AF9F8F36D24D07B2BE7EE49B2E8
Chinese (Simplified) 32-bit (x86) (3.28 GB) 3EE3A2033BE666BA55AFED3FCF6BB52A7C15C7CC
Portuguese (Brazil) 64-bit (x64) (4.05 GB) 3DA91BB9EA7316F670C0A132D940FC1D58BAB296
Portuguese (Brazil) 32-bit (x86) (3.13 GB) 611FE8F94906EFE75F64D197913344AC040DF644
Update: Register for Windows Insider and Get Latest Versions and Preview Builds of Windows