Previously we mentioned about BitFinder that can scan for duplicated files to conserve your hard disk space, but if you are looking for some freeware that can do more than that, then this tiny utility may fit your need. Named as Hard Drive Powerwash, it allows users to clean up some clutter files such as files that are left over whenever you uninstall program or temporary internet files to free them up from your hard disk space.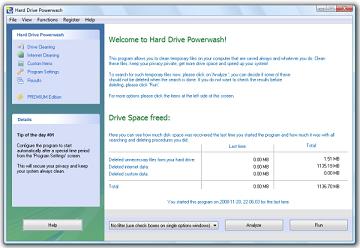 Once install and launch the utility, users will be brought to a GUI whereby there is a way to do simple setup before running the utility. By default, no filter will be used and it will scan the whole hard disk drive for files that can be cleared. Alternatively, users can selectively scan Internet files which include browser cache, history, cookies or only do drive cleaning with specific types of files to be searched which would definitely narrow down the searching criteria and shorten the searching time. Once everything are defined, just click on 'Analyze' radio button and it will scan all the selected categories of files with proper display for quick glance ready for deletion. Next, click on delete will send all these to recycle bin. Good thing is, it will able to summarize how much total space you are able to save after deleting some of these unused trash files.
Let's try to run this tiny utility by downloading here and see how much space you could save and you would be impress with how much memory capacity you can save and more importantly, it will ensure your PC system is always in optimum condition for more effective daily work.