Previously we mentioned about Free 1 Second Folder Encrypt that can safeguard your folders and files from being accessed by third party, here is another simple but yet very useful utility that can make your folders invisible at the first place so that nobody even aware of its existence and eventually make your confidential folders secure. Named as Hide Folders v2.2, it will able to hide any folders in your Windows PC so that eliminating the chance of confidential files being exposed without your permission. No doubt, this is definitely a better way to hide any sensitive data instead of locking it that may catch some user's attention and drive curiosity to hack it intentionally.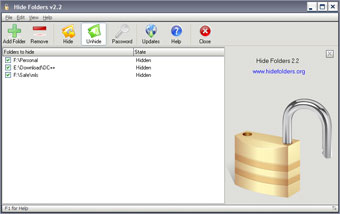 The software utility is very simple to be used. Once install and launch Hide Folders, users can add as many folders that intended to be invisible to others when those PC systems are being shared publicly. At any time if you decide to make these 'invisible' folders to be available for the rest, just highlight on respective folders followed by a click on 'Remove' button and it will bring all back to normal visible state. To ensure no one else is able to access the software utility and know which folders are being hidden, users can setup their own protection password to make this a good solution to secure confidential folder in Windows PC.
If you think this is useful, just go to get a free download at HideFolders.