The long awaited Android 2.2 (Froyo) software update for Motorola Milestone, the popular model of Android smartphone manufactured by Motorola for international market (Motorola Droid in US market that has been upgraded to Android 2.2 OS weeks earlier), has been released officially by Motorola for free download. Motorola Milestone is originally shipped with Android version 2.1 (Eclair).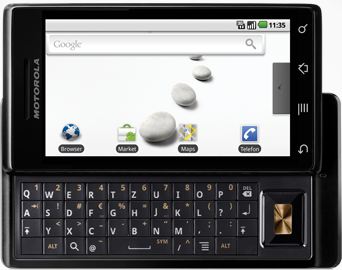 By upgrading to Android version 2.2 Froyo operating system, Motorola Milestone users are promised the following features and enhancements as detailed in the release notes:
Improved Web browsing with support for Adobe Flash Player 10.1, currently available for download via Android Market.
Enhanced browser performance for faster loading of JavaScript heavy pages.
New security options including remote wipe and device lock, complex password, and minimum
password length.
3G Mobile Hotspot connectivity.
New tips, shortcuts, and assistance from a home-screen widget help users better navigate their phones.
Easily switch between the eight most recently used applications.
Improved Wi-Fi performance and connectivity.
Rotate the screen 270 degrees to work with compatible apps in any direction.
Preserve apps and settings using Google Backup and Restore.
Downloaded apps can now be automatically updated and you can choose to store applications in the device's memory or on a SD card.
Management of password policies for Microsoft Exchange administrators across all devices.
Increased ring and notification volume.
Edit recurring Corporate Calendar meetings with a large number of invitees.
Improved Hotmail sync for accounts with a large number of emails.
Streamlined efficiency in Microsoft Exchange Active Sync.
It appears that not all markets is receiving the OTA (over the air) update to Android 2.2, as manual update availability check may not return any result. But it's still possible to directly upgrade Motorola Milestone to Android 2.2 with Motorola Software Update (MSU) utility. It requires a driver to work properly, where the MotoHelper driver for Motorola Milestone will automatically be downloaded and installed if it's not yet been installed.
To get started to upgrade, just head to the motorola.com, or directly download and install Motorola Software Update: Motorola_Software_Update.exe. Once installed, just run the Motorola Software Update utility, and it will auto detect the connected Motorola Milestone and presents a OS software update, which will upgrade the Milestone to Android 2.2.