Outlook Connector (or Outlook Hotmail Connector) is an add-in for Microsoft Outlook which allows user to access, sync and manage Windows Live Hotmail email messages, People contacts, calendars and groups from within Outlook. Outlook Hotmail Connector is been updated with every new version of Office Outlook been released. The old version of Outlook Connector cannot be used with Outlook 2010 released as part of Office 2010.

To connect to Hotmail emails, contacts, calendar, events, or Windows Live groups in Outlook 2010 final RTM which has the build version 14.0.4763.1000, an updated Outlook Connector for Office 2010 has to be downloaded and installed.
Tip: For users who just want to download emails from Hotmail to Outlook, Outlook Connection is optional and not necessary, as Hotmail now provides free POP3 and SMTP support.
Download Outlook Connector for Office 2010
32-bit (x86): 14.0.4763.1000_OlkConnectorPack_none_ship_x86_en-us.exe
Size: 15,280,736 byte
SHA1: 1A273EAD4F826E643026AE3D13BCE846E8FC419F
MD5: AE0610E83FF246CAFB9B0187460EBB51
CRC: 54D934D8
64-bit (x64): Outlook Hotmail Connector for Office 2010 official download
Outlook Connector is provided free of charge.
Users who interested to download Outlook 2010 Hotmail Connector Pack via BitTorrent can use the following torrent instead.
Torrent (Magnet Link): MICROSOFT.OFFICE.2010.OUTLOOK.CONNECTOR.PACK.RTM.X86-64.ENGLISH-WZT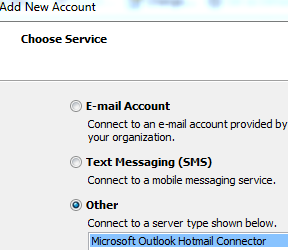 During the installation, there will be several errors saying the Outlook Social Connector is only for Office 2007 and 2003 only. Ignore the error as the Outlook Social Connect is already built-into Office 2010. Note that if you don't upgrade Outlook Connector for Office 2010, an error "Outlook Connector cannot continue without Outlook 2003 or 2007" may be displayed.
Update: Download official Outlook Hotmail Connector for Office 2010, Office 2007 and Office 2003