Previously we talked about the freeware Ultra Hal Text-to-Speech Reader 1.0
that able to translate text to speech on PC. It works great with any text and even compatible with famous instant messaging such as MSN and ICQ. I was trying to find one for my handheld PDA and finally managed to get a utility software that able to perform almost similar function and is suitable to be installed in any Windows Mobile Devices. Known as TellMeText version 1.1.0, it is able to convert your SMS messages and make it audible to the users.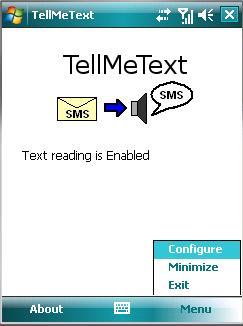 This is especially useful when you have received the new SMS message and would like to view it immediately while driving on the road. Without straining your eyes on the PDA screen, the tool is intelligent enough to read out the message pop up on the screen word by word without any miss. Good thing is, it will also translate the sender's mobile phone number prior to the message contents. So, in case you want to prevent some privacy or sensitive contents to be translated, you still can do it.
The utility is compatible with any Windows Mobile smart phone or pocket PC with version of 2003SE, 2005 and even latest Windows Mobile 2006. Only minor drawback, it is a bit strange that the translation takes place before the message alert tone sounds. Besides, it doesn't have any audio settings such as reading speed that you can fine tune and play around with. Anyway, no harm to try out since it is a freeware downloadable at Blondiesoft.